The Benefits of AC Replacement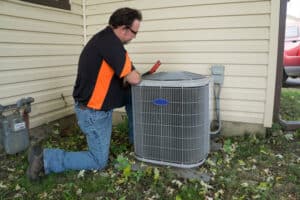 Sometimes, you don't have much choice about getting a Charlotte AC replacement. When your old unit isn't working and will cost too much to fix, it just makes sense to buy a brand new one.
Sure, you can try an air conditioning repair in Charlotte, but sometimes your AC replacement cost will be less than the repair, or you're at the end of the lifespan of your air conditioning unit and it's just not worth fixing. In these cases, you will get more benefits by replacing your AC than you will by repairing it.
Use Less Energy
When you get a new air conditioning installation in Charlotte, you won't use as much energy to heat and cool your home. This is great news for the planet! When you use less energy, you're reducing your consumption footprint and doing great things for the planet.
Most Charlotte AC replacements are more efficient than older units. If you want to be sure to save energy, make sure you get one with a SEER (energy efficiency) rating of at least 15.
Save Money Every Month
When you use less energy, you will save on your costs every month, too. This can offset your AC replacement cost over time, especially if you do everything you can to extend the lifespan of your air conditioning unit. Put your money towards things you love instead of toward necessities when you're spending less on energy or AC repair in Charlotte.
Get an AC that Lasts Longer
If you care a lot about the lifespan of your air conditioner, we'll make sure we perform your air conditioning installation in Charlotte with a unit designed for longevity. They now make some air conditioners with longer lifespans, and we'll help you find one and install it soon.
Get Even Cooler
Older air conditioners may not keep you as cool as newer ones will. Some of this has to do with updated technology and some of it has to do with the fact that most new units simply work better than older ones. If you're having trouble staying cool at home, a new AC unit might be the solution you've been looking for.
Improve Your Indoor Air Quality
Breathe cleaner air at home when you upgrade your air conditioning unit today. Newer units have updated technology that helps clean your air. Even conscientious attention to air conditioning repair in Charlotte won't get you this kind of air scrubbing! You need a new unit to do that! We also offer duct cleaning in Charlotte if it's not quite time for your AC replacement.
Call us at Chad Love Services today or anytime you need an AC replacement in Charlotte or the surrounding areas.
WE'RE READY TO HELP!
Call us Today!