Charlotte Water Heater Repair Service
When you need water heater repair in Charlotte, the skilled heating experts from Chad Love Services will be there fast. We understand that you can't live comfortably without reliable hot water, so we'll work hard to fix your water heater ASAP.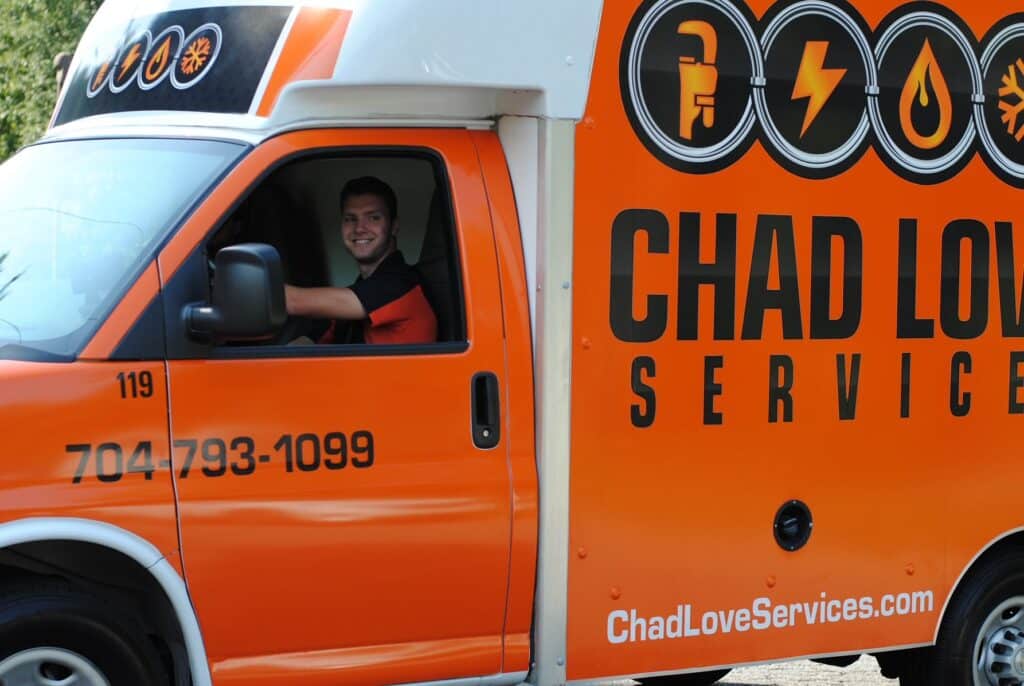 Call us now to get a skilled plumber to your door soon. We know that you need someone you can rely on. That's why we hire the very best plumbers, then update their training as technology advances. We want to offer you the very best value for every dollar you spend with us, and this is just one way we try to do that!
Signs You Need Water Heater Repair
When your hot water disappears entirely, you know it's time to call in a professional to get it going again. However, there are other times when we can fix your water heater. Call usf water heater repair in Charlotte as soon as you notice one of these problems and we may be able to fix it before you lose hot water completely.

Problems to look for include:

Your water heater makes unusual sounds. These can involve clanging, banging, and more. It may sound like it is coming from your pipes when you aren't standing next to the heater.
You don't have as much hot water as you used to. Your water heater shouldn't lose capacity over time. If it seems to, it needs some professional TLC.
Your hot water won't get very hot. Your water heater should heat water to the same temperature consistently. If it's not, call us and we'll find out why it isn't.
Your water heater leaks. If you notice puddles under or around the heater itself or dried streaks down the side, it's time to get some water heater repair in Charlotte!
Call Us for Water Heater Repair
When you notice a problem with your water heater, don't panic. Just pick up the phone and call us at Chad Love Services right away. The friendly representative who answers the phone will connect you with one of our experienced plumbers. They'll find a conveneint time for that plumber to come out and fix your water heater.

Once your plumber arrives (on time, every time!), he or she will talk to you about what is going on with your water heater. This helps us to know what problems we need to fix and can give us clues about where to look so we can find the issue fast.

When we're done with that conversation, we'll start testing the water heater itself. We'll work through it carefully until we find the cause of your water heater woes. Once we find the problem, the solution is usually straightforward. At that point, we'll tell you what we've found and what needs to be done to fix it.

After you agree to the water heater repair in Charlotte, we'll work hard to fix the problem fast. Before we go, we'll test everything to make sure it's working the way you need it to.

Call Chad Love Services at (704) 793-1099 or contact us online today, for five star water heater repair in Charlotte today!