The Benefits of Dehumidifiers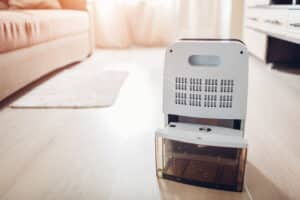 Do you feel like your house is too humid? If you regularly find yourself using a portable dehumidifier at home, consider installing a whole-home dehumidifier instead. These carry a higher up-front cost but they have benefits that can make them a valuable addition to your home.
It Saves Money
When you lower the temperature in your home, your HVAC system dehumidifies your house. However, this isn't what it was made to do and it can't do the job very efficiently. In fact, you'll have to set the temperature lower than where you want it to effectively achieve ideal humidity levels.
Since dehumidifiers cost much less to run than your HVAC, they are the best way to dehumidify. Set the indoor temperature higher, run your dehumidifier, and spend less to achieve better results.
It Improves Indoor Air Quality
Your dehumidifier can prevent mold and mildew from feeding off the excess moisture in your A/C system. This avoids indoor air quality problems, and keeps you more comfortable, too.
A dehumidifier may also reduce the number of allergens and other irritants in your home, especially if your current humidity level is high. This can make breathing easier for anyone in your home who deals with allergies or asthma.
It Saves Your A/C and Your Heater
When you aren't running the HVAC system as much because you aren't using it to dehumidify, too, then it won't undergo that extra stress and strain. This can help you reduce the frequency of A/C and heating repairs, as well as extending the life of the HVAC system itself.
Is a Dehumidifier the Right Choice for You?
If you need better indoor air quality, you want to save money at home, and you believe your humidity levels are too high, then a dehumidifier may be right for you. Our professionals can come assess your home and get you all the information you need to make this decision.
When you choose a dehumidifier, you'll want to get one that will work well for you for many years. Our team will match you with the perfect dehumidifier for your home, then order it and install it for you, too. We won't leave until your home's humidity level has improved!
Save yourself money, time, and energy when you call us Chad Love Services about a whole-home dehumidifier today! We'll get your new dehumidification system installed and running ASAP!