Can I Fix My HVAC System Myself?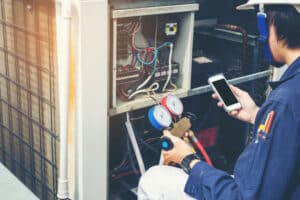 We get a surprising number of calls from people who tried to fix their HVAC systems on their own, only to find out that they can't do it or to realize that they only made the situation worse. While there are a few maintenance things that you can do for your HVAC system, most repairs and replacements require the services of an AC expert.
HVAC Maintenance You Can Do
You can start by changing your filters on the right schedule for your HVAC units. Our experts can tell you how often they think you need to do this, or you can test your filter by holding it up to the light. If you can't see daylight through it, it's time to change it.
You can also keep the areas around your outdoor HVAC unit clear and remove dust and debris from your vents. This helps your HVAC unit work without any extra stress and strain.
Reasons to Call an HVAC Professional
If you need HVAC help beyond these few things, it's time to call in a professional. Call a pro because:
HVAC work often involves your gas and/or electric systems. These are systems that you shouldn't mess with unless you have training or you know what you're doing. Otherwise, you could injure yourself or put your family in danger. You could also create a much larger problem than the one you have right now.
You want expertise on your side. HVAC problems can be tricky to diagnose accurately and find the right solution to solve. Unless you've been solving HVAC problems for years like we have, you may not find the right solution the first time. DIY HVAC repairs can be more expensive than calling someone when you have to fix several things before you find out what is causing the problems.
You want your repairs completed fast. DIY HVAC repairs often take a lot of your time, even if you do manage to find the right solution the first time. If you want your HVAC system running again soon, contact an HVAC professional to get the job done as soon as possible and get comfortable again ASAP.
When you need an HVAC pro to help you out, contact us at Chad Love Services. We'll work with you to make sure you get the heating or cooling power you need ASAP. Reach out today to get comfortable soon.