Common Heating Emergencies & What To Do About Them
There are so many things that can go wrong with your heater. The most common problems are based on the type of heater you have and how old it is. If you ever need HVAC service in Concord, NC, call us at Chad Love Services right away!
Electric Furnaces
Electric furnaces most often demonstrate problems with comfort controls, a dirty or damaged blower, overfull filters, a damaged heating element, or a motor that requires lubrication. While we can't diagnose your problem over the phone, our experts in furnace repair in Concord, NC can get to you fast to get your furnace working again soon.
Other Electric Heaters
If you have another type of electric heater, your problems will most likely focus on your ceramic heating element or your motor. These may struggle to work because of age, require cleaning, or need to have parts replaced. Our experts in heating repair in Concord, NC can determine exactly why your heater isn't working right and fix it fast.
Gas Furnaces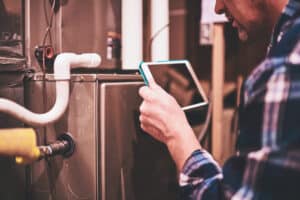 Gas furnaces can have problems that overlap with those of electric furnaces, but they can also have other issues. They may have problems with the pilot light, issues with thermocouples, burner air shutters that require replacement or adjustment, or dirty burner ports and tubes. Our pros that specialize in emergency heating repair in Concord can fix any of these problems and more.
Oil Furnaces
Oil furnaces are often easier to work with than other types, but you still may have problems with broken or damaged switches, various motor issues, the electrical service panel, or the forced-air distribution system. We'll find the source of your problems and fix them fast or get you a new furnace installation in Concord, NC.
Forced Air Distributors
Most furnaces have forced air distribution systems attached to move the air around your home. These systems may have problems with dirty or clogged filters, the tension on the blower belt, a broken direct-drive blower motor, and more. When you call us for Concord heater repair, we'll look at this system, too, to make sure it's working well for you before we leave.
Call For Emergency Heating Repair in Concord!
Call us at Chad Love services today or anytime you need heating repair in Concord, NC. Whether you need emergency heating repair or furnace installation in Concord, NC, our experts are here to help. We'll get to you fast and help you find the solutions you need quickly and efficiently. Contact us now for fast, friendly service soon.