End Of Summer AC Maintenance Tips
After the long summer season, it's best to do some AC maintenance in Concord. This way, you can ensure the system is ready to be used next year even after a long winter time. Follow these steps from us at Chad Love Services to avoid needing sudden AC repair in Concord.
End of Summer: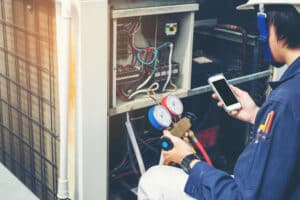 Cover your AC unit. This keeps limbs and other debris from getting into your HVAC system and causing major damage. You'll want to use something like a tarp, to protect from cold weather, hail, and snow.
Secure your unit. If you live in a hurricane zone, units have to be strapped down with hurricane straps. Make sure these are fully installed before a storm hits so your air conditioner doesn't become a projectile.
Prepare for cooler weather. With summer winding down now is the perfect time to schedule your heating maintenance. We can find and fix any issues with your heating system so you're never without heat this coming winter.
Handle Repairs: If you are in need on Concord AC repair, don't wait until next Summer to take care of it. Schedule your Concord AC repair with Chad Love Services today!
Reach out to us. If you ever need help with HVAC maintenance, call us at Chad Love Services and we'll get to you as soon as we possibly can to inspect your unit and get it shut down for the season properly.
Next Summer:
Check your Concord AC system before you start it back up. After the winter, uncover your unit to make sure that your air conditioner is clean and that it works.
If it is not working, call our team out for HVAC maintenance. We will get to you quickly and get things working again for a reasonable price. If you need air conditioning replacement or AC repair in Concord after the winter, we'll get it done fast.
Get AC Maintenance in Concord Today
Contact us at Chad Love Services today for HVAC maintenance or to ask us questions about getting your heating and cooling systems ready for the fall and winter. We are here for all of your needs around HVAC in Concord and Charlotte.