Get the Most Out of Your Air Conditioner This Summer!
If you have air conditioning, you're probably enjoying it a lot these days. However, if you're like most homeowners, you hate paying for the energy that your AC unit uses. Here are some ways to make the most out of the money you spend on cooling costs.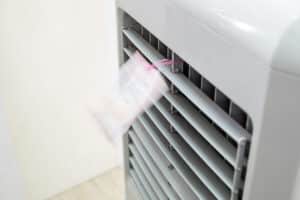 Choose a Venting Strategy
Depending on how your home is laid out and where your vents are, you may choose to close some of them at different times of day. You can cool the downstairs when you're there, then cool the upstairs at night. You may also want to close vents that lead to bathrooms or laundry rooms where you don't really need cold air.
Unblock Your Vents
Make sure the vents you want to use aren't covered or blocked in any way. This can keep your cold air from circulating as designed. Remove furniture, drapes, baskets, and more to clear the way!
Use Fans Wisely
Both ceiling fans and portable fans can help you stay cooler. Fans are designed to cool people, not air. If you're in a room with a fan, it can help you stay cooler by moving the air against your skin, but it won't help you lower the temperature of the room. Turn on fans when you're in a room, then turn them off when you leave. Make sure your fans are spinning the proper direction for summer!
AC Tune-Up Charlotte, NC
Air conditioners are complex systems, and yours will work most effectively and efficiently when it receives regular AC tune ups in Charlotte. Our AC system tune-up consists of:
Calibrating and testing thermostats
Ensuring that coolant is at the proper level and pressure
Checking all electrical components
Cleaning the evaporator coil and condenser
Clearing out the condensate drain
Looking over the condenser fan and motor
Changing the air filter
Performing a comprehensive safety check
Once our Charlotte HVAC maintenance expert has serviced your air conditioner, you'll notice a big difference in your electric bill. You might even be more comfortable at home, too.
If you need help getting the most out of your Charlotte air conditioning system this summer, call us at Chad Love Services today! Our Charlotte AC repair experts can help keep your cooling system running like it should with a simple AC tune up in Charlotte to keep your home and family as comfortable as possible this summer. Don't wait till you're hot!