What to Do In an AC Emergency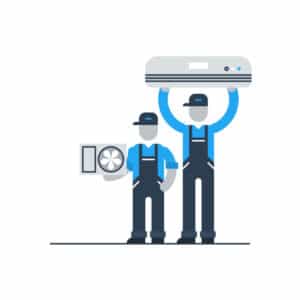 One of the worst feelings you can have as a homeowner comes when your HVAC in Concord, NC stops working in the middle of a hot summer. After all, you and your family don't just want to stay cool…you NEED to!
At Chad Love Services, we offer emergency AC repair by your cooling experts in North Carolina. Just give us a call about your air conditioning in Concord and we'll be there fast. We won't rest until it's working again!
Look at Your Circuit Breakers
If you want to troubleshoot your air repair in Concord yourself, start by checking your circuit breakers. Sometimes, especially when your AC runs a long time in hot weather, it overloads a circuit and the breaker flips. You can flip it back and get your AC running again.
If your breaker flips repeatedly, it's time to take a look at the system as a whole. Something isn't working, but our Concord AC repair experts will find it and get it fixed ASAP.
Check the Air Filter
Sometimes, a clogged air filter can prevent your AC from working well or keep all that cold air from getting to you in your home. Changing it can make a huge difference! You should change yours regularly (or be scheduling AC tune ups) anyway and keep a supply of them on hand in case one gets clogged and you need to change it fast.
See If There are Leaks
Examine your AC unit to see if there are leaks. This is a common problem and can be an easy air repair in Concord. Frozen external pipes can indicate a leak, or you may actually see refrigerant pooling in or around your air conditioning unit.
If you see signs of a leak, contact your Concord emergency AC service right away. Unfortunately, people who aren't cooling experts in North Carolina might simply refill your coolant, without actually repairing the problem. We'll make sure we fix the problem at its root so you won't have to worry anymore.
Bring In Professionals
One of the best things you can do when your air conditioner stops working, especially if it's not a breaker or a filter problem, is to call for emergency AC repair right away. That way, your experts in air conditioning in Concord can get you on the schedule ASAP.
Bringing in your Concord emergency AC service experts can be the fastest, easiest way to get your air conditioner working again. And if you need it, we'll talk to you about AC replacement options. We won't rest until you have cool air again.
Call us at Chad Love Services today, or anytime you need help with your HVAC in Concord, NC. We'll get everything back to normal fast so you and your family will be able to relax at home soon.
WE'RE READY TO HELP!
Call us Today!