How To Decide If It's Time To Replace Your AC Unit
When it gets hot, you need your air conditioner to work well for you. Otherwise, you can end up roasting in your own home. It may be time for you to get a new air conditioner, so you won't have to worry about getting too hot at home during the summer time. How do you know when it's time to have a new AC installed?
Do You Need a New AC?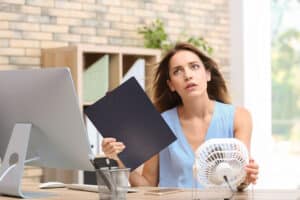 You're really hot at home. Even if you enjoy being warm, there's a point where your house is too hot for you to function well. If you feel like you're hitting this point more and more, it might be time to put in a new air conditioner. It's even more important if you have someone who is medically fragile moving in, like an aging parent or an ill child.
Your current air conditioner is old. Most AC units last somewhere between 10 and 20 years, depending on how much you use them and how well you maintain them. If yours is getting to this age it may be a good idea to replace it rather than face breakdowns and repairs in the future. If you have the financial means, this can be a great way to avoid stress.
Your unit requires repeated repairs. Even if you have only had small repairs so far, it's only a matter of time before something bigger breaks. The fact that things are wearing out can indicate that your air conditioner is near the end of its lifespan.
You need expensive repairs. Even if the repair you're facing technically costs less than it would cost to get a new air conditioner, your money may be better spent on a brand new AC unit, especially if the repair won't help your current unit function as well as it used to. Talk to your technician about your options.
Charlotte AC Installation Pros
Call us at Chad Love Services today speak with an expert about your AC installation in Charlotte, or the surrounding areas! Our Charlotte air conditioning contractors will give you the advice you need to choose a unit that is tailored to your comfort needs in your budget. You can count on your Charlotte air conditioning company, Chad Love Services, to keep you cool any time of the day or night with 24/7 emergency AC services in Charlotte, Concord, or the neighboring areas. Call us today and get relief fast!