How to Extend the Life of Your HVAC System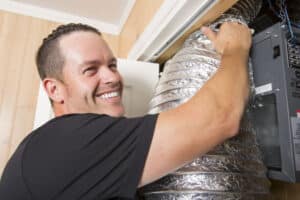 Replacing your HVAC system or components of it is never fun. While it will be necessary at some point for most homeowners, the truth is that there are things you can do to extend the life of your current system so you don't have to install a new one as often. Here's what you need to know to make your HVAC system last as long as it possibly can.
Change Your Air Filter on Schedule
When your air filter gets dirty, your HVAC system has to work extra hard. Save it that wear and tear by replacing your filter on the right schedule. You should replace it every three months, though many systems do best when you replace it every month. If you're not sure what your schedule should be, contact one of our experts to get a professional opinion.
Upgrade Your Insulation
The more insulation you have, the less your HVAC system will have to be on. This saves it wear and tear, which means that it won't break down as quickly. New insulation is an investment but it can help your HVAC system significantly.
Use the "Auto" Setting
The "Auto" setting on your thermostat means that your fan only runs when the system needs it to, instead of running all the time. Once again, this saves significant wear and tear so your system can work well for longer. It also keeps the system from running constantly, which can cause it to overheat and face other struggles.
Install a Smart Thermostat
Smart thermostats allow you to use your phone or your tablet to control your thermostat. Most of these units also learn your patterns so they know when you want your home's comfort systems to run and when they don't need to work as hard. This saves wear and tear and can save you money on energy costs each month, too!
Schedule Regular Tune Ups
Get your HVAC system tuned up twice a year – once in the spring and once in the fall. That way, you can ensure that everything is working optimally and that there aren't any incipient problems. We'll get you any repairs that you need so you can stay comfortable and keep your system running well for many years.
Do you need to schedule one of these tune ups? Contact us at Chad Love Services and we'll have an expert to your door ASAP.