What to Do if Your Furnace Dies
While we hope you never face the problem of a dead furnace in the middle of a winter storm, it does happen. If you're in this situation, here's what you can do to stay warm and protect your home until you secure heating repair in Concord, NC.
Check for Simple Fixes
Before you panic, make sure your thermostat settings are correct and that you didn't trip a circuit breaker. Even gas furnaces need electricity to function well! Check both of these things before you decide for sure that you need a furnace repair in Concord.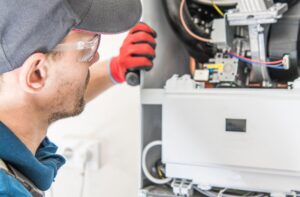 Call for Help
If the simple fixes don't work, call us and tell us you have a furnace emergency. We'll get one of our Concord HVAC experts on their way soon.
Stay Warm
There are a few things you can do to stay warm until we can get that furnace fixed. Turn on your oven and open the door. Use space heaters. Use your gas or wood-burning fireplace to generate some heat.
Protect Your Pipes
Aim your space heaters at any exposed water lines. This will keep them warm. Don't use a hair dryer or torch for this job, though, as they can actually produce too much heat. If you don't have a space heater handy, wrap exposed pipes in insulation or even in newspaper to keep them warm.
Call Chad Love Services whenever you need furnace repair in Concord for fast, friendly help. We won't leave you out in the cold this winter. Instead, our Concord HVAC company will do whatever it takes to get your furnace back to full functionality fast!