The Most Common Air Conditioner Problems and How to Solve Them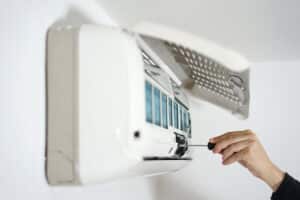 When your air conditioner is not working, it's easy to feel frustrated, angry, and anxious. However, AC problems are common and some of them are even easy to fix. Here's what you need to know so you feel less lost when trying to evaluate your broken air conditioner. And, if you need services for your air conditioning in Charlotte, NC, or Concord, call our team today!
Your Air Conditioner Won't Turn On
If your air conditioner won't turn on at all, start with the basics. Make sure that it is plugged in. Then, check your furnace room and make sure that your furnace fan is switched on, too. This switch usually looks like a light switch and is easy to turn off by accident.
If this doesn't help, check your circuit breaker or fuse box. Make sure that the relevant circuits or fuses are functioning properly. Finally, check your thermostat to ensure that it is set properly. You may want to try turning it down 5 to 10 degrees to see if that helps.
If your AC still won't turn on, it's time to call in a pro for AC repair in Charlotte, NC. 
Your Air Conditioner Won't Cool the Air
If your air conditioner is working but not cooling, make sure that the outside unit has adequate air circulation. You may need to remove the cover to clean off the condenser coils inside.
You'll also want to check your filter. If you pull it out and can't see light through it, it's time to change it. This may give your air conditioner the cooling power it needs.
If it's still not cooling by this point, give us a call and we'll come and provide air conditioning repair in Charlotte or the surrounding areas for you. 
Your Air Conditioner Makes Unusual Sounds
Try to determine which kind of sound you are hearing.
The fan motor or the compressor will make a screeching noise.
Thumping, banging, rattling, and other related noises usually indicate a problem with the blower or the motor.
Hissing usually means a refrigerant leak.
Bad electrical components will make a buzzing sound.
If you're not comfortable diagnosing the problem and fixing it yourself, call in professionals to find out why your AC sounds different. 
Air Conditioning Charlotte, NC
When you need a professional to help with your air conditioner problems or if you read this and you still wonder, "Why is my air conditioner not working?" call your Charlotte Air Conditioning experts at Chad Love Services today. We'll have an expert to your home fast to find out what has gone wrong with your AC and to get it fixed right away. From repairs to AC replacement and installation, rely on us whenever your air conditioner is not working!
Learn More About