Air Duct Cleaning in Davidson, NC
One of the first steps you can take to improve your indoor air quality in Davidson is to call us at Chad Love Services for duct cleaning services. We'll send out an experienced duct cleaning technician to take care of you ASAP, and make sure that your Davidson property is not putting you or your family at risk. Get in touch with us now for more information or to speak with a member of our staff!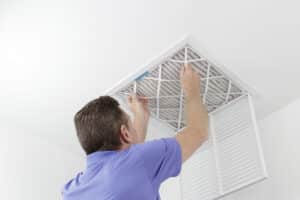 Air Duct Inspections
The first step is to conduct ductwork inspections of your home. Your technician will examine all of your visible ductwork and may even send a camera through your ducts to see if there is anything out of the ordinary that would affect how we proceed.
Duct Cleaning Service
Once we know what we are looking at, we will know what to do next. Some air ducts need very little cleaning. If the system is intact, it should be hard for dust and other debris to get into your ducts. However, even the smallest hole or mismatched seam in your ducts can allow these things inside.
We can clean some air ducts by hand. For the rest, we use powerful vacuum and blower technology to get all foreign matter out of your ducts. We ensure the safety of your ducts at all times, and we will care for your home as if it was our very own.
Benefits Of Duct Cleaning
Air duct cleaning can be enough to improve air quality and bring a better life for asthma and allergy sufferers. If someone lives at your property and is sensitive to dust or any of the other matter in your air ducts, removing them with duct cleaning can save them quite a bit of discomfort.
Duct Cleaning Experts in Davidson
Interested the benefits of our Davidson air duct cleaning services for your home? Call us at Chad Love Services today to get on our schedule soon. Our Davidson HVAC experts will go over all the options with you and answer all of your questions before getting started, and stay until your ducts are in the proper condition and working for you and your family.