When Should I Replace My Thermostat?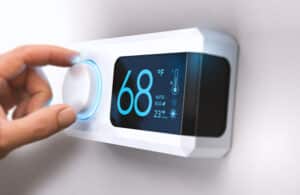 A lot of homeowners don't think about replacing their thermostats unless there's a major problem. Whether you're having issues with yours or you want to upgrade it to one that will save you money, we can help you at Chad Love Services.
Read through the information below about when you should replace your thermostat, then contact us ASAP if you want to get a new one soon!
My Charlotte HVAC System Won't Turn ON
If your HVAC system in Charlotte won't turn on, the problem may lie with your thermostat. While this problem can be caused by a number of issues, your thermostat could be the culprit. Call out an expert to see if you need a new thermostat today.
My HVAC System Doesn't Adjust to Changes I Make
Your thermostat may turn on your Charlotte cooling and heating system, but if it doesn't adjust immediately when you make changes, you should get a new one. You should be able to change between heating and cooling and change the temperature, too. If you don't hear a small click from the thermostat or notice changes, get the thermostat check out soon.
Heating or Cooling in Charlotte Turns Off and On Repeatedly and Quickly
When your thermostat isn't working properly, your Charlotte heating and cooling system may cycle on and off rapidly. This can burn out your motor fast, and it won't heat or cool your home very much at all. When this starts happening, turn the system off and get the thermostat checked ASAP by a licensed Charlotte electrician.
Your Thermostat Loses Programmed Settings
If you have a programmable thermostat but it never seems to remember your settings or it suddenly forgets settings that have been in place for years, it may be time to get a new thermostat. Sometimes, the memory simply doesn't work anymore and you'll need to replace it in order to program it effectively once again.
You Want to Upgrade Your Thermostat
Older thermostats may work fine, but they often don't allow you to program the thermostat. They also don't come with options to operate them via your smartphone and they won't automatically adapt to your patterns like some of the newer ones will.
These options can help you save money on your heating and cooling costs because they allow you to lower the temperature of your home when you're gone and still get things comfortable again before you get home. If you're interested in upgrading your thermostat, connect with our Charlotte electricians and HVAC experts. We'll set you up with the best thermostat for your system and situation.
Benefits of WiFi Thermostats
Simple & User Friendly
These amazing products are simple, intuitive and easy to use. The touchscreen interface allows you to manage everything effortlessly and intuitively. You'll quickly learn how to control everything from a mobile device or tablet.
Save On Your Utility Bills
By controlling your temperature differently during different times of day, you can best utilize your programmable thermostat to increase your comfort and adapt to outside conditions, which helps to save you money each month!
Extend The Life Of Your HVAC System
By modifying your home temperatures during different times of day via a WiFi thermostat, you put less strain on your heating and cooling systems, which thereby is likely to extend their lifespans.
Service Reminders
There are also some very capable Wi-Fi thermostats which provide sophisticated diagnostic features, which can remind you when it's time for system maintenance or service. As much as we love it when you plan ahead with us, we also know that is not always realistic. As long as you pay attention to your Wi-Fi thermostat's reminders…you'll know when its time for service.
Altogether, a programmable Wi-Fi thermostat provides a number of benefits to your household, with minimal upfront cost.
If you'd like to take advantage of one of these newer options, you'll need to replace your thermostat. The HVAC and Charlotte electric experts at Chad Love Services can help you find the perfect new thermostat for your home and can get it installed and working fast. Call today to get your new thermostat ASAP.